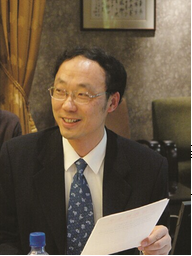 张陆勇,男,药理学,教授,博士生导师,博士,科学技术处处长。
1983/07 南京药学院,学士
1989/07 中国药科大学药理学,硕士
1996 比利时杨森研究基金会,中国药科大学新中新药研究开发中心副主任
2000—2002 国家药品监督管理局药品审评中心中药药理毒理组组长
2002—今 中国药科大学科技处处长、国家南京新药筛选中心、江苏省新药筛选中心和江苏省药效研究与评价服务中心主任
担任中国药理学会制药工业专业委员会副秘书长,中华中医药学会中药毒理学与安全性研究分会常务委员,中国毒理学会药物毒理与安全性评价专业委员会委员,中国药学会老年药学专业委员会委员,江苏省动物学会实验动物专业委员会主任委员,江苏省药理学会中药药理学会副主任委员,江苏省中医药学会新药研究开发专业委员会副主任委员,江苏省药物研究与开发协会秘书长,江苏省实验动物学会(协会)理事,江苏省实验动物管理委员会专家组成员,江苏省中西医结合学会医药管理专业委员会常务委员;《中国天然药物》、《中国药科大学学报》、《药物生物技术》、《中药新药与临床药理》、《中国临床药理学与治疗学》杂志编委。目前任国家食品药品监督管理局新药审评委员、保健食品审评委员;国家发展与改革委员会药品价格审评委员、现代中药专项评审专家;农业部兽药审评委员。主持国家自然科学基金、重大新药创制、行业专项、科技部863专项、科技部十五攻关,科技支撑计划、国家中医药管理局基础研究项目和人才培养计划等20余项,2008年获得江苏省有突出贡献的中青年专家称号;2006 年主持"新型药物筛选体系的研究和应用"项目获江苏省科技进步一等奖(排名第一);曾获国家教育部新世纪优秀人才(2004年);江苏省教育厅青蓝工程中青年学术带头人(2005年);江苏省人事厅六大人才高峰(2004年);江苏省教育厅"333"工程第三层次培养对象(2003年),江苏省"333工程"中青年科学技术带头人第三层次(2007年),江苏省"333"工程第二层次培养对象(2013年)。
工作研究领域:分子药理学/毒理学/高通量高内涵药物筛选
工作研究项目:
1、1997-2000年主持国家科技计划(1035工程)"筹建国家新药筛选实验室";
2、2000-2003年主持"筹建江苏省新药筛选中心";
3、2005-2008年主持"江苏省药效研究与评价服务中心"的建立;
4、重大新药创制科技重大专项"新药筛选核心技术规范化平台建设及其科学应用";
5、国家自然科学基金"雷公藤甲素的大鼠代谢性别差异机理以及代谢性别差异对肝毒性的影响" ;
6、国家自然科学基金"1-磷酸鞘氨醇/1-磷酸鞘氨醇激酶通路介导的雷公藤甲素抗癌机制研究";
7、财政部行业专项"中药毒性的评价方法学研究和科学应用";
8、科技支撑计划"秋水仙等维吾尔药常用毒性药材(制剂)的临床前安全性评价及技术研究" ;9、国家科技部"十五"攻关项目"柴胡及其复方安全性评价示范研究"。
代表性论文:
1、Wu XD, Zhang LY, Shang J, Wang T, Wang CF, Gurley E, Studer E, Yan M, Jiang ZZ, Hylemon PB, Sanyal AJ, Pandak WM., Zhou HP. Prevention of free fatty acid-induced hepatic lipotoxicity by 18β-glycyrrhetinic acid through lysosomal and mitochondrial Pathways. Hepatology. 2008, 47(6):1905-15
2、Xinzhi Wang, Zhenzhou Jiang, Mengtao Xing, Jing Fu, Yuwen Su, d, Lixin Sun, Luyong Zhang. Interleukin-17 mediates triptolide-induced liver injury in mice. Food and Chemical Toxicology. 2014, 71: 33–41.
3、Zhenzhou Jiang, Meijuan Wu, Jingshan Miao, Huaqin Duan, Shuang Zhang, Mi Chen, Lixin Sun, Yurong Wang, Xueji Zhang, Xiong Zhu, Luyong Zhang. Deoxypodophyllotoxin exerts both anti-angiogenic and vascular disrupting effects. INT J BIOCHEM CELL B. 2013, 45:1710–1719
4、Jiaying Wang, Zhenzhou Jiang, Jinzi Jia, Xinzhi Wang, Mi Chen, Ting Tai, Luyong Zhang. Gene expression profiling reveals potential key pathway involved in triptolide induced hepatotoxicity in Wistar rats. Food and Chemical Toxicology. 2013, 58: 495–505
5、Zhang Y, Jiang Z, Su Y, Chen M, Li F, Liu L, Sun L, Wang Y, Zhang S, Zhang L. Gene expression profiling reveals potential key pathways involved in pyrazinamide-mediated hepatotoxicity in Wistar rats.Journal of Applied Toxicology. 2013(33): 807–819.
6、Jiang Z, Bao Q, Sun L, Huang X, Wang T, Zhang S, Li H, Zhang L. Possible role of mtDNA depletion and respiratory chain defects in aristolochic acid I-induced acute nephrotoxicity.Toxicology and Applied Pharmacology. 2013, 266: 198–203.
7、Ma M, Jiang Z, Ruan J, Tan X, Liu J, Wang C,Zha X, Zhang L. The furano norclerodane diterpenoid disobulbin-D induces apoptosis in normal human liver L-02 cells.Experimental and Toxicologic Pathology. 2012, 64: 611– 618.
8、Su Y, Chen X., Jiang Z, Wang T, Wang C, Zhang Y, Wen J, Xue M, Zhu D, Zhang Y, Su Y, Xing T, Zhang C, Zhang L. A panel of serum microRNAs as specific biomarkers for diagnosis of compound- and herb-induced liver injury in rats.PLoS ONE.2012, 7(5):1-11.
9、Wang J, Jiang Z, Ji J, Li Y, Chen M, Wang Y, Zhang Y, Tai T, Wang T, Zhang L. Evaluation of hepatotoxicity and cholestasis in rats treated with EtOH extract.Journal of Ethnopharmacology.2012, 144: 73–81.
10、Zhang J, Liu L, Mu X, Jiang Z and Zhang L. Effect of triptolide on estradiol release from cultured rat granulosa cells. Endocrine Journal.2012,59(6): 473-481.
11、Zhang Y, Jiang Z, Xue M, Zhang S, Wang Y, Zhang L. Toxicogenomic analysis of the gene expression changes in rat liver after a 28-day oral Tripterygium wilfordii multiglycoside exposure.Journal of Ethnopharmacology.2012, 141: 170– 177.
12、Liu J, Sun H, Shang J, Yong Y, Zhang L. Effect of olive pomace extracts on hyperlipidaemia. Nat Prod Res. 2011, 25(12): 1190-1194.
13、Liu J, Jiang Z, Liu L, Zhang Y, Zhang S, Xiao J, Ma M, Zhang L. Triptolide induces adverse effect on reproductive parameters of female Sprague-Dawley rats. Drug Chem Toxicol. 2011, 34(1): 1-7.
14、Li J, Zhang L, Zhou H, Stoneking M, Tang K. Global patterns of genetic diversity and signals of natural selection for human ADME genes. Hum Mol Genet. 2011, 20(3): 528-540.
15、Fu Q, Huang X, Shu B, Xue M, Zhang P, Wang T, Liu L, Jiang Z, Zhang L. Inhibition of mitochondrial respiratory chain is involved in triptolide-induced liver injury. Fitoterapia. 2011, 82(8): 1241-1248.
16、Zhang P, Zhang L, Jiang Z, Wang T, Chen H, Xiong Y, Li Z. In vitro mitochondrial toxicity of metacavir, a new nucleoside reverse transcriptase inhibitor for treatment of hepatitis B virus. Antimicrob Agents Chemother. 2010, 54(11): 4887-4892.
17、Xue M, Jiang ZZ, Liu JP, Zhang LY, Wang T, Wang H, Liu L, Zhou ZX. Comparative study on the anti-inflammatory and immune suppressive effect of Wilforlide A. Fitoterapia. 2010, 81(8): 1109-1112.
18、Liu L, Jiang Z, Liu J, Huang X, Wang T, Zhang Y, Zhou Z, Guo J, Yang L, Chen Y, Zhang L. Sex differences in subacute toxicity and hepatic microsomal metabolism of triptolide in rats. Toxicology. 2010, 271(1-2): 57-63.
19、Li J, Zhang L, Jiang Z, Shu B, Li F, Bao Q. Toxicities of aristolochic acid I and aristololactam I in cultured renal epithelial cells. Toxicol In Vitro. 2010, 24(4): 1092-1097.
20、Shu B, Duan W, Yao J, Huang J, Jiang Z, Zhang L. Caspase 3 is involved in the apoptosis induced by triptolide in HK-2 cells. Toxicol In Vitro. 2009, 23(4): 598-602
21、He L, Zhao C, Yan M, Zhang LY, Xia YZ. Inhibition of P-glycoprotein function by procyanidine on blood-brain barrier. Phytother Res. 2009, 23(7):933-937